STOCKHOLM, Sweden, April 27, 2022
Bumbee Labs, the Scandinavian-based global leader in providing footfall data and analytics via anonymized Wi-Fi signals, has partnered with Ray, a Singapore-based new age networking company with a vision to shape the future of the world with the simplest networking solutions securely connecting humans and machines. Ray has an extensive footprint covering Southeast Asia, the Indian subcontinent, the Middle East and large parts of Africa.
Ray's core offerings, which include Wireless, SD-WAN and SASE technologies, will see a direct benefit to their wireless solutions after inheriting Bumbee Labs Analytics services. Ray's line of cloud networking and security products provide a connectivity experience expected from a top-of-the-line enterprise product with many firsts like a built-in security engine, SD-WAN, IoT security and AI driven RRM.
This collaboration with Bumbee Labs enables Ray to deliver Wi-Fi based and privacy secure footfall data to verticals such as hotel chains, retail and shopping malls, and schools and universities. In particular, the retail industry will benefit greatly from their new offerings with added data features such as the ability for shopping center management to understand and respond to peaks and flows in customer footfall more effectively and understanding important consumer behaviour. Features such as consumer dwell time, movement patterns and conversion rates in retail stores, shopping malls, smart cities and transport hubs will help businesses to more accurately tailor their offering to encourage more visits, longer visits and ultimately more sales.
Ray has a quickly expanding footprint covering Southeast Asia, the Indian subcontinent, the Middle East and large parts of Africa. The partnership will allow Bumbee Labs to expand their leadership from the European markets into further areas of the world. Already providing footfall data to some of the largest names in their home base of Sweden, such as Telia, Bluecom, IMAS, Springboard and CK Delta has inspired Bumbee Labs to explore and offer services to more diverse markets.
Bumbee Labs' GDPR secure method can provide a number of important KPI's using existing Wi-Fi installations, which reduces the need for additional hardware investments.
"Working with Ray is exciting for Bumbee Labs because of the innovation they bring to the Wi-Fi world. Matching their mission to simplify people's lives when dealing with machines through wireless internet with our expertise in providing anonymized data from smart phones to create an enhanced service is the perfect pairing," says Karl Samuelsson, the CEO of Bumbee Labs.
"At Ray our motto is customer success, and we are excited about our partnership with Bumbee Labs. Complimenting the seamless Wireless provided by Ray, our customers will now be able to leverage the deep analytics provided by Bumbee Labs and take informed business decisions to aid their growth," says Hemal Patel, the CEO of Ray.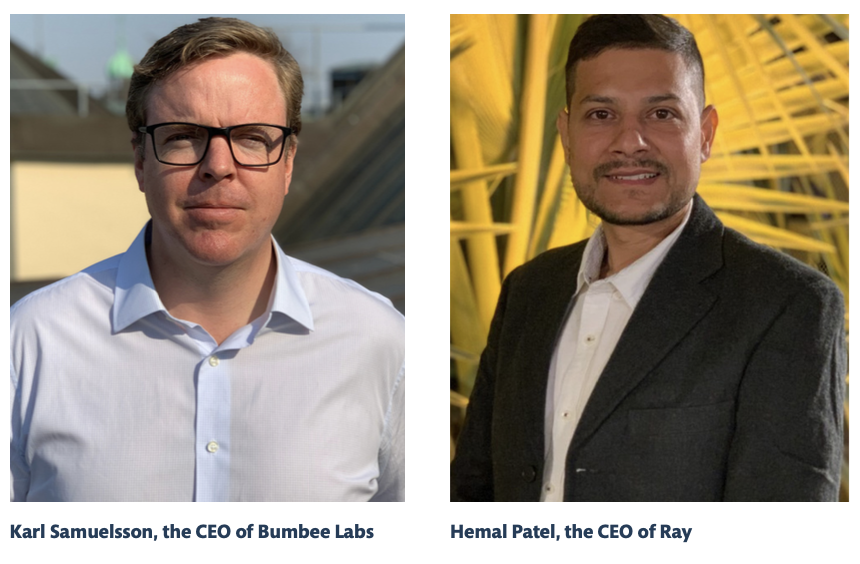 About Bumbee Labs
Bumbee Labs is the global leader in footfall data and analytics. Visitor flow data is captured anonymously using Wi-Fi signals in smart mobile phones. The method is unique in being the only GDPR compliant company in the data collection industry with an approval by a European Court of Law. Bumbee Labs works with partners globally on providing data for public transportation, malls, shopping centres, offices, retail and city centers. Bumbee Labs was established in 2011 in Stockholm, Sweden. Learn more at www.bumbeelabs.com. Follow us on LinkedIn.
About Ray
Ray is a Singapore based data company. Ray's line of cloud Networking products, starting with Wi-Fi provides connectivity experience expected from a top of the line Enterprise product. Ray is an Operating System that by that virtue, creates a platform to integrate 3rd Party applications like SD-WAN, VPN, Security opening a world of possibilities on the same hardware. Ray puts the data through its AI algorithms to create deep insights like Policy & Standards compliance (HIPPA, PCI-DSS, etc.), Network behavioral insights, Risk Analysis, IoT Security, and many more. Learn more at www.ray.life.
Contact persons for further questions relating to the partnership:
Bumbee Labs:
Karl Samuelsson, CEO, +46 707 588971, karl.samuelsson@bumbeelabs.se
Ray:
Hemal Patel, CEO, (+65) 9874 4506, hemal.patel@ray.life
For PR enquiries please contact:
Bumbee Labs:
Amanda Herzog, Marketing Coordinator, Bumbee Labs, amanda.herzog@bumbeelabs.se
Ray:
Hemal Patel, CEO, (+65) 9874 4506, hemal.patel@ray.life