STOCKHOLM, Sweden, January 20, 2022 –
Bumbee Labs
, the Scandinavian-based global leader in providing footfall data and analytics via anonymized Wi-Fi signals, has partnered with DOTS Tech Systems, a globally renowned Internet of Things solutions provider from UAE.
This collaboration enhances DOTS ability to deliver Wi-Fi based and privacy secure footfall data to their smart buildings, smart retail, airport and other transport hub verticals. In particular, the retail industry will benefit greatly from their new offerings with added data features such as the ability for shopping center management to understand and respond to peaks and flows in customer footfall more effectively and understanding important consumer behaviour. Features such as consumer dwell time, movement patterns and conversion rates in stores will help businesses to more accurately tailor their offering to encourage more visits, longer visits and ultimately more sales.
The partnership will bring Bumbee Labs into Middle Eastern territory for the first time, expanding their leadership from the European markets into further areas of the world. Already providing footfall data to some of the largest names in their home base of Sweden, such as Telia, Bluecom, IMAS, Springboard and CK Delta has inspired Bumbee Labs to explore and offer services to more diverse markets.
The physical retail industry is in dire need of additional data in order to be able to compete with online shopping. Bumbee Labs' GDPR secure method can provide a number of important KPI's using existing Wi-Fi installations, which reduces the need for additional hardware investments.
"We are excited to work with DOTS as our partnership in the UAE. Their innovation in delivering working solutions within smart city services (and the Internet of Things domain) will be merged with our expertise in providing anonymized data from smart phones to create an enhanced service that will accelerate the growth of the retail industry sector," says Karl Samuelsson, the CEO of Bumbee Labs.
The CEO of DOTS Dheeraj Singh adds, "We are continually committed to delivering innovative and cutting-edge solutions for Smart Cities. As a pioneer in the space of Internet of Things (IoT) enabled Smart City applications, DOTS have a proven track record of delivering solutions that meet and exceed client's expectations of digitization on the ground. We are very excited by this collaboration with Bumbee Labs as their data expertise will complement our IoT know-how providing an unparalleled service to our clients across several verticals, industries and markets in the Middle East."
The partnership between Bumbee Labs and DOTS will enhance the retail industry of the Middle East by improving the accuracy of data collected from physical spaces. With this innovative collaboration, both companies expect to see a rise in ownership of sales from retailers again following a pause in growth during the last two years of the pandemic. The idea of monetizing Wi-Fi is now expanding to all markets around the world that want to stimulate the retail industry.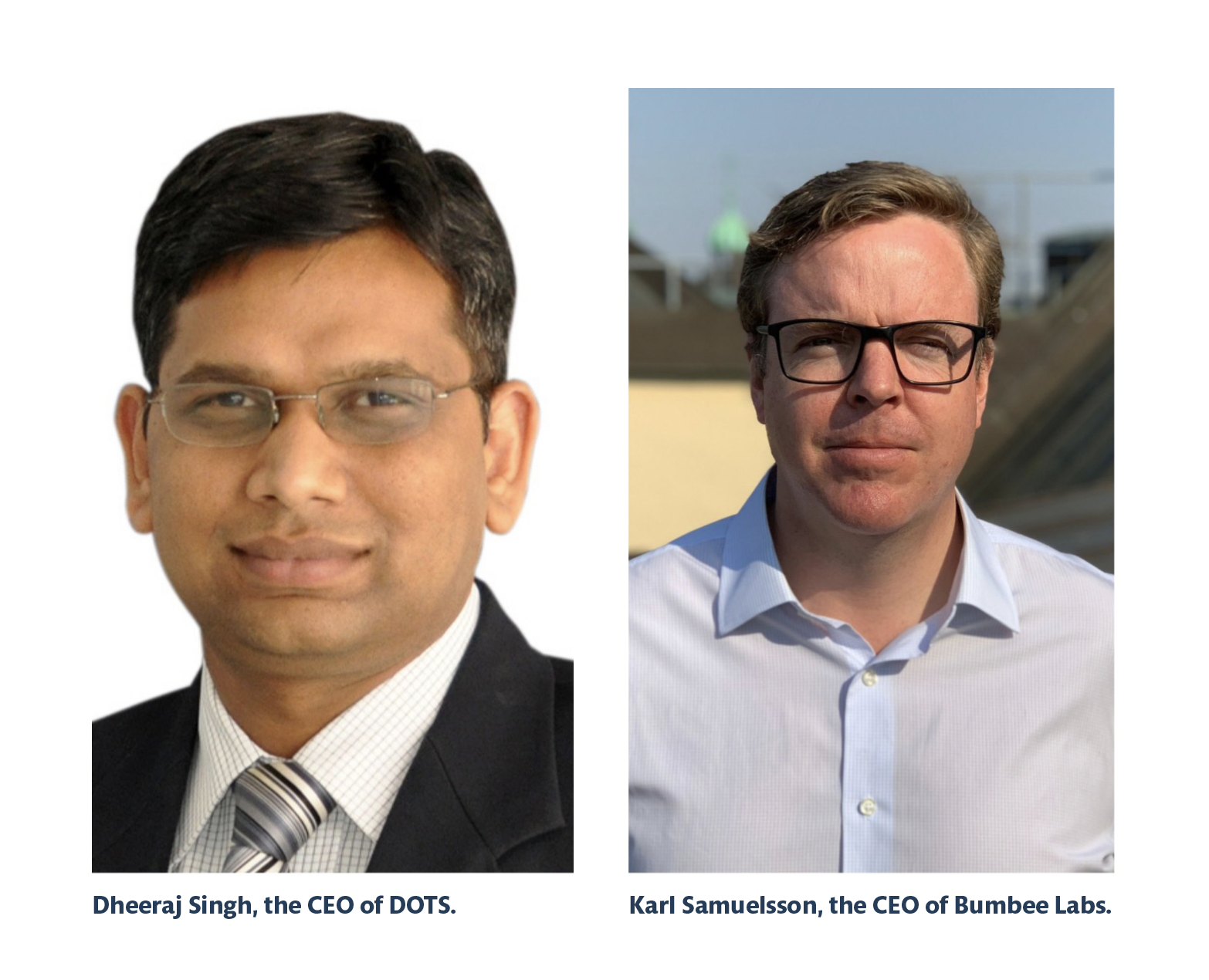 About Bumbee Labs
Bumbee Labs measures visitor flows by capturing anonymized Wi-Fi signals in smart phones and can do measurements in both outdoor and indoor environments. Visitor flows are measured anonymously, and the method is unique in being approved by a European Court of Law. Today, Bumbee Labs' solutions also work outdoors in, for example, town centers. This is only the beginning of the digital alteration that we are working on to make towns and physical shopping even more effective and profitable. Discover more at www.bumbeelabs.com. Follow us on LinkedIn.
About DOTS
DOTS Tech Systems is a prestigious, Dubai-based smart solutions company whose mission is to develop cutting edge smart city technologies that deliver unbeatable, tailored IoT offerings for their customers. DOTS have solutions across numerous industries and verticals and within the context of the retail sector they are currently serving some of the best retail brands of the Middle East. Learn more at www.dotstechsystems.com. Follow us on LinkedIn.
Contact persons for further questions relating to the partnership:
DOTS:
Mohammad Foudeh, Sales Director, +97 155 2940707, mohammad@dotstechsystems.com
Bumbee Labs:
Karl Samuelsson, CEO, +46 707 588971, karl.samuelsson@bumbeelabs.se
For PR enquiries please contact:
DOTS:
Rebecca Lightbody, B2B Engagement & Digital Marketing, DOTS, rebecca@dotstechsystems.com
Bumbee Labs:
Amanda Herzog, Marketing Coordinator, Bumbee Labs, amanda.herzog@bumbeelabs.se